In February of 2014, at our first annual meeting, we announced our plan to create a wildlife garden in the park and offered the chance to dedicate a tree in honor or memory of a person or dog to the first 5 people to donate $150 to the project.  The trees were planted in the fall, made it through a tough winter, and received their dedication plaques at our Meet the Trees event on Friday, June 5.   Member Helene Feinberg Walker provided delicious treats for both person and dog guests and everyone had a great time.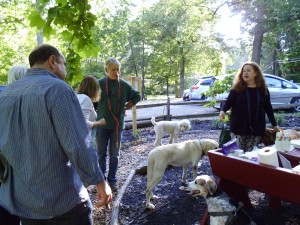 For those who couldn't be there, we missed you!  Do drop by the wildlife garden and take a look at the 5 trees and their tags:
One of our two Appalachian Spring dogwoods was donated by Hazel Murphy in memory of her sister Avis and her husband Tony; the other was donated by Jon and Janine Weller in honor of their dog Lucy.
Our three Winter King hawthorns were donated by Karen Garbeil in honor of Junior (who needs no introduction);  by Helene Feinberg Walker in memory of Cybil and Max, Poodle Girls; and by Jay and Marya Margolis in memory of Dollie the Collie.
True to the wildlife mission of our garden, the  flowers of both  varieties of trees are especially beneficial to endangered pollinators, and their fruits provide food for over 35 bird species.